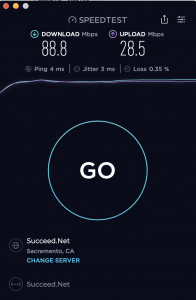 For what most people do on the internet such as email, web or cloud applications, shopping, reading, or online school anything of 10mbps or more is usually enough, but below are some situations that could make you need or want more.  Most households don't need more than 50 to 100mbps.  There is nothing you can't do with 50mbps and all you gain over this is faster downloads or support for a 5+ streamers at the same time.  Gigabit although it sounds amazing, if it's not super cheap, you don't gain any lower latency or any new abilities to do anything.  You just gain faster downloads of very large multi Gigabyte files or updates.
*Internet services that require unusual amounts of bandwidth and data caps:
4k Video can require 15 to 25mbps per stream (TV, tablet, phone, etc).  4k content is somewhat rare still but growing and your device must support 4k to even stream it.  So if you are using a device that can only display 1080p then it will never try to download 4k version of the video.
HD Video 1080P video stream can used 4-6mbps per stream (TV, tablet, phone, etc)
Downloading games on XBOX, Playstation, or Computer can be HUGE now so to cut down the wait time the faster the better depending on you or your kids patience level.
Video conference require more upload if you are sharing your desktop or presenter and you want at least 7mbps upload.
Multiple devices in the house streaming HD or 4k content can add up quick
Gaming doesn't use much bandwidth and usually under 1mbps except in one case and that is streaming gaming services such as Nvidia Geforce Now, Google Stadia, or Shadow which use as much as 30mbps the entire time they are streaming.  Make sure you have unlimited data or at least 1TB+ if anyone is going to use this type of service.  It's best suited for urban internet.
File sharing and syncing service such as Google drive, Dropbox, or Box.com.  Depending on how big of a share you are part of, the syncing can be HUGE up to hundreds of Gigabytes if not properly setup or managed.
Data backup services.  Related to 7 but there are backup programs such a Carbonite, Blaze, and others that can backup your computer to the cloud.  These can be hundreds of Gigabytes to Terabytes during first backup and then Gigabytes per day of changes.  Best to run these during "free" data use periods late at night (1AM to 4AM).
Here is a nice tool with sliders to figure out how much you need: Bandwidth Calculator
* Most common list, but not meant to be a complete list of obscure or unusual needs of special services.