What is Succeed.Net MyVoice?
Succeed.Net MyVoice is an advanced cloud-based VOIP telephone service designed to replace your expensive copper based analog telephone line with a full featured digital version that works over your internet connection.  This service should save you a significant amount in telephone line charges while still working with your normal phones (corded or hands free wireless).  It features HD quality voice and is easy to use providing all the optional services on a normal telephone line plus give you many more such as digital desktop fax at no additional cost.  Our service is one of the few VOIP services that works with standard fax machines and multifunction devices including other devices that use modems to communicate!  With the big telephone companies raising prices yearly to ridiculous levels of $50+ per month not including long distance, we have a high quality bargain for you at typically 50%+ OFF big Telco prices.

All of these Features and Benefits

:
FREE Cisco Equipment – No phones or equipment to buy, equipment warrantied for life of account
Ultra clear HD VOIP sound quality – High quality sound
Unlimited USA and Canada calls, low cost international rates – Reduce your phone bill
Keep your existing phone number  – We provide a FREE fully managed smooth transition from any provider
Latest Cloud Technology – Advanced redundant Cloud servers for maximum 99.99% uptime
No long term commitments – Most accounts available with no contract!
Works with your existing regular analog phones (corded or cordless)
Optimized QoS for the best VOIP possible experience on across Succeed.Net networks
30 Day Money Back Satisfaction Guarantee – No risk to try us out!  Quit anytime.
e911 emergency service compliant – You enter your address where the device is located and can update if moved.
HD quality voice
Caller ID
Call forwarding
Web management portal with eFax
Voicemail sent to email as .wav file option

Optimized for FAX use (T.38)
Caller ID
Call forwarding
Works with normal FAX machines!
eFAX via web browser

Eliminate your home phone bill
Receive home number calls on your cell phone
Call forwarding
NO hardware needed, all cloud based.
Web Portal provided to changed forwarding
Equipment: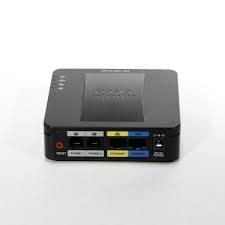 Cisco SPA122 VOIP Adapter
(included FREE rental with Voice or Fax Accounts )
Advanced QoS (in router mode)
Supports reliable T.38 FAX mode
2 Analog phone ports
Enhanced VOIP feature set
Router or Bridge modes
Works with typical home phones and fax machines
*Prices shown do not include any applicable taxes. Pricing and packages may change. Succeed.Net services are subject to our Terms and Conditions and other applicable acceptable use policies. Call for details, availability, minimum system requirements, pricing and service.