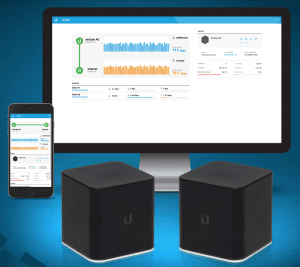 Worry-free managed WIFI for your home or small business
Everyone with Internet access needs an indoor WIFI access point for wireless connectivity for desktop computers, laptops, cell phones, tablets, TV's, Playstation, Xbox, and more!  So if you aren't a techie or just want someone else to setup and maintain your in-home WIFI we can do that for you!
Features and Benefits:
Dual band 2.4ghz and 5.ghz 802.11AC radio for max speed and compatibility
Great add-on for our Internet service
Month-to-Month cancel anytime service
Appealing Cube design style of hardware
Good for up to 2000 Sq ft
Regularly performed remote firmware upgrades for maximum security and compatibility
LIFETIME warranty on equipment, if it ever fails we replace it for free with latest model
Wifi Core
monthly
$10
Wifi that works, configured for you in your home
Suitable for most homes under 2k sq ft
802.11AC Dual Band 2.4ghz & 5Ghz
Never buy new hardware with lifetime warranty
Wifi health and hardware monitored for better performance
Call to Add
Want to save $10 a month and do it yourself?
If you are technical savvy person and can handle installing, configuring, and keeping the latest firmware upgrades installed for VERY important security reasons then here are some makes and models we recommend:
BEST -> Linksys Velop Tri-band – $299 (Amazon) for 2 Meshing units (good for up to 4,000 sq ft, get 3 unit bundle for 4000-6000).  Has Parental controls for limiting kids access.
GOOD -> Linksys AC2200 Tri-Band – $156 (Amazon) for fast CPU, 4 antenna MIMO, good for 2000 sq ft)