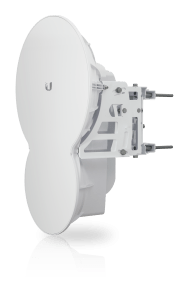 Features and benefits:
RELIABLE 99.999% and SPEED similar to dedicated Enterprise Fiber from big Telcos with similar speeds and latency up to 10Gbps
SECURE with data encryption and fully automated DDoS Protection!
LOW COST TO BUILD vs Fiber with typically $0 build with 3 year commitment
Very fast installation time (typical 1-2 weeks)
PRIORITY Traffic, Repair and Support priority level 4 (Best)
SLA Guarantees for Speeds, Latency, Uptime, Support Response times
FREE FROM AVAILABILITY LIMITS not requiring phone, cable, or fiber to location
NO WORRIES with full equipment monitoring and warranty for life of account
UNLIMITED MONTHLY traffic and usage
Cat 6 Gigabit ethernet standard handoff or fiber optional
What is Dedicated Air Fiber Internet Service?
This Enterprise grade Internet access service provides a dedicated fixed wireless frequency or optical laser connection between one of our towers and your location providing fiber optic like service at cheaper prices with dramatically faster installation times. Includes 5 useable static IP's (or more upon request), unlimited traffic, and top priority traffic and support, Full Service Level Agreements and a standard Gigabit Cat6 Ethernet handoff.  Available in most of our urban coverage areas and some rural areas (see coverage map).  Good for up to 500 computer networks.
Dedicated Symmetric Internet available up to 10Gbps!  Give us the hard to reach jobs!
*Not available to all locations and cost may vary due to limited space on towers or limited frequencies in a particular area, but we will try our best.  Please contact us for a free quote and link analysis.