Features and Benefits: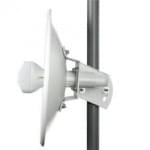 Compare to business grade ADSL2+ or Cable service
FREE Equipment & Activation
FREE 24/7 Tech Support
LARGE Bandwidth Caps (compared to Satellite and Cellular)
LOW LATENCY (ping times) good for gaming, VOIP, video chat, etc
Priority traffic and support over Residential connections for VOIP, VPN, etc
Full Radio equipment warranty for life of account
Great high speed affordable alternative to typical DSL or Cable
Available in many rural areas with no or poor Cable or DSL coverage
No Phone line or Cable TV required can save you money $$$
Compatible with PC, Mac, Linux, iPhone/iPad, VPN, VOIP, and more!
Optimized end to end for our business hosted VOIP service
30 Day Money Back Satisfaction Guarantee
Now available with no contract!
What is Business Air Fiber Internet Service?
It is a high speed, low latency Internet service that provides a standard ethernet handoff from a fixed wireless connection to one of our private network towers or other access point structures.  It's very similar to fast DSL or cable service in experience, but available in areas that those services are poor or not available.  Download email attachments faster, get smooth web meetings, watch your video, use VOIP phones, View video Surveillance, and more with a high speed Business Air Fiber Internet service from Succeed.Net.
3 to 6 Mbps down
1 to 2 Mpbs up
Dynamic IP
5 Emails
Up to 2 computers

6 to 12 Mbps down
1 to 3 Mbps up
Dynamic IP
5 Emails
Up to 5 computers

10 to 20 Mbps down
2 to 4 Mbps up
Dynamic IP
5 Emails
Up to 10 computers
Options:
Add VOIP for as low as $24.99 a month for Business PBX system VOIP includes desktop phone
Add Wifi 802.11N managed Wifi service for only $10 more per month (per AP)
*One AP suitable for for up to 1,800 sq ft office, larger offices typically require multiple Access points for proper coverage.
Add Static IP for additional $20 / month
Add Static block of 8 IP's (5 useable for customer) for additional $40 / month
Email, web hosting, etc – Contact sales.
Equipment, installation, and options:
Professional On-site Installation:
FREE INSTALLATION with 2 year commitment!
$250 with no commitment
Outdoor Wireless radio with built-in firewall router – FREE rental with monthly service
Optional custom installation (inside walls, attic crawls, etc) – $100 / hour
Flat roof buildings require a Special Non-Penetrating Mount for $200 that cannot be discounted or waived.
Terms: All speeds listed are "up to" the maximum listed.  Speeds can burst to max rates at beginning of download for a limited time.  Sustained downloads continue at normal speeds.  Distance, trees, extreme weather, interference and other factors out of our control can affect the maximum or average speeds you will receive.  All non-dedicated services are best effort and not guaranteed.