Features and benefits of Air Fiber Flex: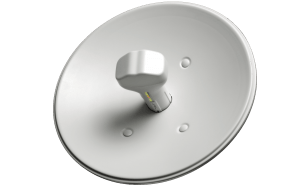 Compare to bonded T1's, Ethernet over Copper (EoC), or low cost fiber with similar speeds and low latency
Can be configured as Symmetric or Asymmetric depending upon your needs
Very low cost and build-out compared to wired services, like fiber
Very fast installation time (typical 1 week)
Traffic, Repair and Support priority
Not reliant of having phone, cable, or fiber to location.
Full equipment warranty for life of account
Compatible with PC, Mac, Linux, iPhone/iPad, VPN, VOIP, and more!
Optimized for our Virtual PBX VOIP services
What is Business Air Fiber Flex Internet Service?
Air Fiber Flex Internet service is a business grade Internet service for businesses that have heavier use of VPN's, VOIP, frequent large uploads, and require higher priority and security.  It is similar to Metro Ethernet service, basic Fiber, and an upgrade to Bonded T1's.  It includes Priority traffic and QoS over SOHO Business accounts.  Is the better choice for 10-50 computer networks.
5Mbps

5Mbps Down
5Mbps Up
1-5 Static IPs

10/5Mbps

10Mbps Down
5Mbps Up
1-5 Static IPs

15/5Mbps

15Mbps Down
5Mbps Up
1-5 Static IPs

20/5Mbps

20Mbps Down
5Mbps Up
1-5 Static IPs
Symmetric Equipment, installation, and options
Outdoor Wireless radio with built-in router – FREE rental with monthly service
Optional custom installation (inside walls, attic crawls, etc) – $100 / hour
Professional Installation:
1 Year commitment = $500
2 Year commitment = $250
3 Year commitment = FREE!
Need something faster or dedicated internet (un-metered traffic) up to 100mbit full duplex?
Request a Quote