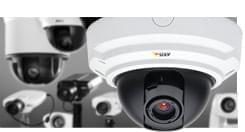 We offer modern HD video surveillance systems quality that are light years ahead of CCTV based systems.  New advances in video surveillance by new manufacturers have revolutionized these systems new options.  We design and build systems from a few cameras to hundreds.
Used for security, office safety, theft prevention and risk management
High resolution 720p & 1080p
Recording times from weeks to years!
Pan / Tilt / Zoom options
Extreme weather and environment
Night vision including large IR LED panels to light up entire storage lots
Live and recorded video accessible remotely on your computer at home, iPhone, Android phone or tablet, etc!
We offer systems by Ubiquiti and Axis Communcations.  Please contact us for a free evaluation and quote.